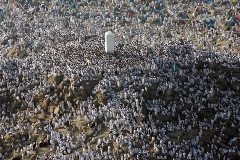 Saudi Arabia announced on Wednesday the Muslim Eid al-Adha would fall on Saturday, Oct. 4.

In the lunar Islamic calendar, Eid al-Adha falls on the 10th day of the month of Dhul Hijjah, which Saudi authorities announced would begin on Thursday.

Eid al-Adha marks the end of hajj, a religious pilgrimage undertaken by millions of Muslims each year to Makkah in Saudi Arabia.

Saudi authorities also announced that the Day of Arafa, the most important day of hajj, would fall on Oct. 3.